The New Ludlow High School Mascot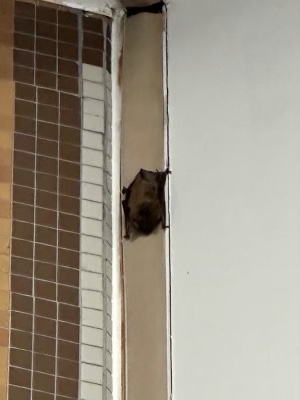 Recently, Ludlow High had an unexpected visitor in the A wing—a bat. 
The bat first arrived at the school sometime on Monday October 26, and the news quickly spread throughout the school. Pictures had circulated around the school, and almost everyone had come to greet the new visitor. 
Teachers had mixed feelings about the special guest.
Mr. McAvoy stated that "It is a little unnerving to see the bat just hanging out, but it does fit well with the spirit of Halloween!"
Mr. Lee said that "Bats are really important and we need to get the bat back outside so that it can go home."
Also Mr. Snow commented that "It's great. Bats are cute."
Students who had passed by felt that the bat was disgusting and should be gotten rid of.
Junior Taylor Morton stated that "The school should fix this, because it is unsanitary."
Senior Rory DiVenuto shared the same kinds of feelings about the bat. She stated that she was "confused as to how the bat got into the school," and that she was "Currently feeling: unease, discomfort, and gross."
Junior John McClintock, on the other hand, said that "The bat is a perfect animal friend and great for the halloween season, although it should be allowed to stay indefinitely should it desire to."
The bat is no longer hanging in the same crevice it was found in, and was likely gotten rid of over the weekend. It is unsure of what happened to our school visitor, but hopefully our special guest was healthy when it decided to leave our school.