LHS Student Council Celebrates Read Across America
Members of the student council ventured to the elementary schools to promote reading.
Read Across America was established in 1998 as a way to promote reading among children and teens. To celebrate this day, LHS student council members took a field trip to East Street and Harris Brook Elementary Schools to promote reading. 
The group, which consisted of 19 students, went from classroom to classroom reading books and interacting with curious and eager students. 
"It was really heartwarming because the children were all so kind and they all listened really well," said student council secretary Katherine Tassinari. "They all had really unique questions about what middle and high school were like with regard to academics, athletics, school culture, and the general experience," she added. 
Read Across America was originally established on Dr. Seuss' birthday, and thus is often themed around his books. Many of the books read to students were classic Dr. Seuss books, such as The Cat in the Hat and Green Eggs and Ham. LHS seniors Aaron Picard and Leo Laguerre even went around to classrooms dressed as the Cat in the Hat to commemorate the occasion.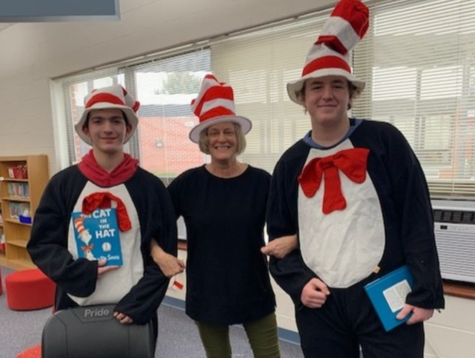 "It was pretty awesome dressing as the Cat in the Hat," said Aaron Picard. "Seeing their faces light up when I walked into the room was amazing."
Many LHS students surprised their previous teachers or unsuspecting younger siblings with their presence.
"I enjoyed it [the book] 100% better than any other book I've read," said second-grader Matthew Tassinari, younger brother of Katherine Tassinari.
This year was the first time since the start of the pandemic that students have been able to visit the elementary schools to read. In previous years, students traveled to both East Street and Chapin Street, but this year marks the first year that students read at the newly-built Harris Brook Elementary School. 
Overall, the day was a huge success for  both the high school and elementary students who had the opportunity to share their favorite stories and learn from one another.
Leave a Comment