The Arts Take Over Ludlow High School
On Wednesday, December 22, 2021, the arts overtook Ludlow High School. The night included a district-wide art show, a music department concert, and a Tri-M induction ceremony. The night marked a long-awaited celebration of the arts through the pandemic.
The night was kicked off with a district-wide art show. The show included works from East Street Elementary School, Harris-Brook Elementary School, Paul R. Baird Middle School, and Ludlow High School. The show highlighted the skills of the district. 
"I liked looking at the high-school students' art," says Brigid DiVenuto, a fourth grader at Harris-Brook Elementary School, "it was so creative." 
The art show brought together students across Ludlow as they demonstrated their artistic abilities.
The musical events of the night started with induction for the Tri-M Music Honor Society. Tri-M stands for Modern Music Masters.  This society highlights students with outstanding musical achievements. Tri-M is the only music honor society in the United States. 
To become a member, a student must be a part of an organization in the Ludlow High School Music Department; maintain at least a B average in music classes along with at least a C average in all other classes; demonstrate good character and leadership skills; and be an active member of the community through community service. The organization holds meetings and participates in community service.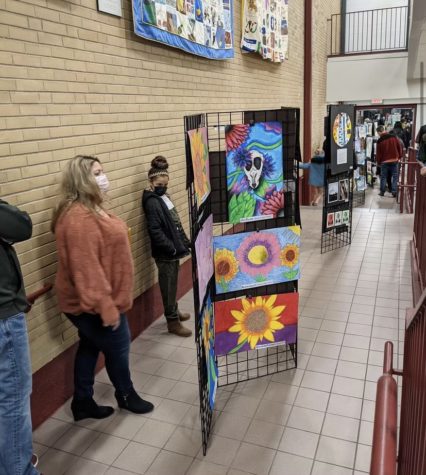 The night concluded with the music department holiday concert. The concert included performances from the band and chorus. The performers switched off between songs, with the chorus opening the concert and the band playing the last song of the night. The act included the songs The Night Before Christmas (performed by the chorus) and Christmas Festival (performed by the band).
The concert had a limited audience due to the pandemic but was live-streamed on the Ludlow Community Television (LCTV). This live stream is available to view on the LCTU Youtube channel.