Sara Maria Wins Local Voice of Democracy Contest
The Voice of Democracy Scholarship is a nationwide audio-essay competition in which nearly 38,000 teenagers across the country compete for post, district, state and national scholarships. This year's theme was "What Makes America Great.", with each school conducting their own competition. The winner of Ludlow High School this year was senior Sara Maria. She won $250 and will go on to compete for the Massachusetts statewide competition and possibly the national scholarship of $30,000.
Sara had no idea that she would win the competition. 
"We had no idea where we were going to place in the competition until Eric Segundo called us up [to the stage] that night…. As he was calling the winners up… my excitement increased…. I even turned to my mom sitting beside me and my jaw dropped in disbelief," said Sara.
Sara wrote her "What Makes America Great" essay about… Portugal?
She wrote a story that is well known to the citizens of Ludlow: her family's story of immigration. She discussed the influence of the Portuguese Dictatorship "Estado Novo" on her grandparents' decision to immigrate to the United States and the influence that education and opportunity have had on her life. 
"
…And now I get to make a mark on the world, and follow my 'pursuit of happiness' just as my grandparents did."
— Sara Maria
In her essay she writes, "In this country, I am able to enact positive change or vote for those who can. In this country, I have access to an amazing education. In this country, I live with people of different origins. In this country, I have opportunity. In this country, I have a voice."
She ends the essay with a realization of hers when she has an emotional connection with her grandfather. She realized why they chose America as their home and why so many millions of immigrants make that same choice every day. Her story not only resonated with the Portuguese immigrants of Ludlow, but with every American immigrant. 
It is no doubt why Sara won the competition: not only was her story heartfelt, but it resonates with so many. She says, "As much as I loved coming up in first place in the Voice of Democracy competition, the moment that resonated with me most was after the ceremony when people came up to me. They smiled and congratulated me—many with tears in their eyes, for they also come from immigrant families who came to this country to make a living."
Mr. Fanning was at the Voice of Democracy Ceremony and was the person who pushed Sara to apply. He was shocked at the speech. He had barely read it before it was submitted, so he only heard it for the first time at the ceremony. "In Sara's essay, it was well written, but it was so well received because it was clearly from the heart," said Fanning, "I was on the stage while she was delivering it, so I could see out into the crowd. There wasn't a side conversation going on, or any phones out, everybody was just looking straight at Sara. They were so moved by her essay. It really was a tear-jerker."
Good luck to Sara as she continues on to the state competition!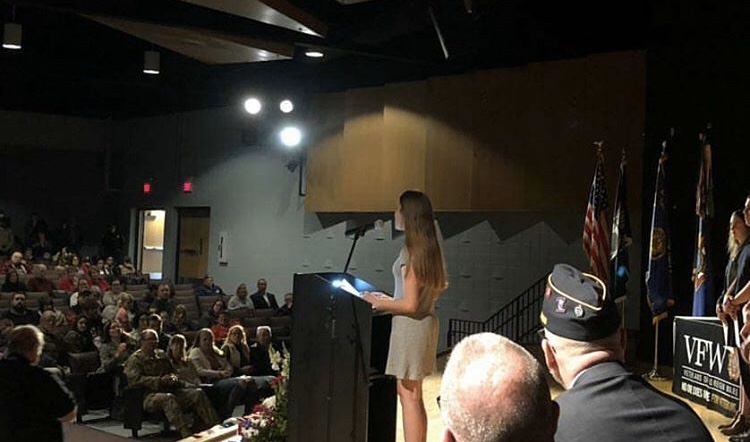 Leave a Comment