São Martinho at LHS
Living up to the stereotype of a "Portuguese town," the Ludlow High School Portuguese Community, as well as those adopted into it, celebrated the traditional Portuguese holiday, São Martinho last Friday in the cafeteria.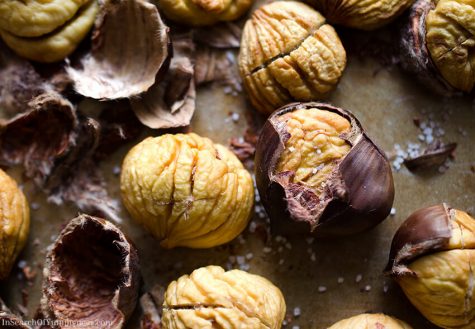 São Martinho is a holiday celebrated on the 11th of November to commemorate Saint Martin, the patron saint of soldiers. In a cultural gathering dating back to the fourth century, the Portuguese gather around friends and family to celebrate the harvest. The Portuguese traditionally celebrate with the roasting of chestnuts (an activity which Americans usually do around the holidays). In addition to Portugal, 19 other European countries also celebrate the venerated saint. France and Italy celebrate similarly to Portugal, with the roasting of chestnuts, Spain with the roasting a pig, and Germany with bonfires.
The legend of Saint Martin dates back to 377 when Martin, leader of the Roman army was returning home to France. As he crossed through the wintery Alps, he came across a beggar who asked him for food. Martin had no food, so instead, he unsheathed his sword and cut his cape in half, giving half to the homeless man so he could stay warm on the cold day. All of a sudden, the sun came out and the day was warm, as if God had rewarded him for his generosity. We celebrate the few warm days in November, calling them, "Saint Martin's Summer."
Portuguese teachers, Senhora Fernandes and Senhora Santos-Pontes described their favorite parts of São Martinho. "Gathering with family, peeling castanhas (chestnuts), and eating them. Getting black fingers. It's just so much fun," reminisced Senhora Fernandes.
"Diddo. And burning my fingers," Santos-Pontes added jokingly.
This year, generous parents, grandparents, aunts, uncles, and even the students themselves generously donated their time to make over 50 dishes and desserts for this year's celebration. Among the favorites were the folar (bread with sausage inside), bifanas (pork sandwiches), chocolate salami, and the traditional chestnuts.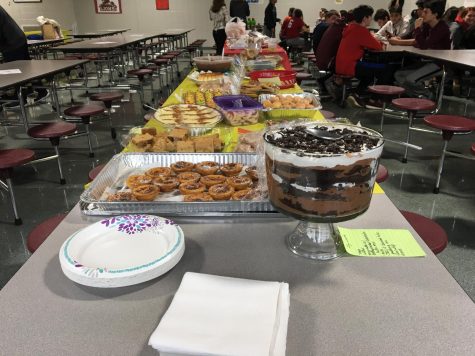 With more than 100 people in attendance, the "festa" was bound to be a success. Several familiar faces from around the school made an appearance; Mr. Fanning, Mr. Martin, Mr. O'Connor, Mr. Camp, and even retired Portuguese teacher Senhora Fagundes.
"Any holiday named after me is a great day," joked Mr. Martin. He left the party with enough food to fill a shopping bag. "I loved it… The fellowship of the students, the fellowship of the teachers, the food… It is definitely a defining characteristic of Ludlow High School."
Mr. Camp also attended the party. "São Martinho was awesome! The food was delicious… and I look forward to it again next year!"
The Feast of Saint Martin falls on the same day as Veterans Day, the day on which we celebrate the end of World War I. So this year, as you watched parades and thanked a few vets, millions of people across the Atlantic celebrated the saint who protected them.