Class of 2019 plans halloween field trip to Salem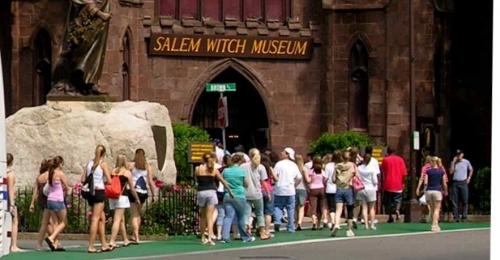 Ludlow High School's Class of 2019 will travel  to Salem, Mass. on Oct. 26 for a field trip. The event will  be an all-day affair, lasting from 6:30 a.m. to 6 p.m..
The total cost of the trip per student is $66, not including lunch, and should be paid in full by Oct. 3 to one of the class advisors, either Mr. Cangemi, Mr. Rea, or Mr. Woodman.
Woodman said one reason they chose Salem was that "students read the Crucible, an excellent play by Arthur Miller, which concerns the witch trials of 1692."  Students will have an opportunity to explore the witch museums as well as the dungeons from the 1600s.
Late October is also an exciting time to be in Salem because of all the Halloween celebrations, the advisors said.
His hope for the trip is to allow student to "learn of New England's unique history, never to fall victim of witch hunts, and enjoy an important piece of art and enjoy themselves."
He is "very excited about the trip" and with every visit he "learns something new about colonial ancestors."
When asked about whether or not students know about Salem, Mass.,  junior Kylie Montemagni says she does "know a good amount because of taking AP U.S. history with Mr. [Tom] Bly."
Montemagni added that should be attending the trip "because it's close to Halloween time and it'll be spooky and fun" experience.
Last year the Class of 2019's field trip to Mass Mocha was cancelled due to lack of interest.