NHS Participates in JDRF Walk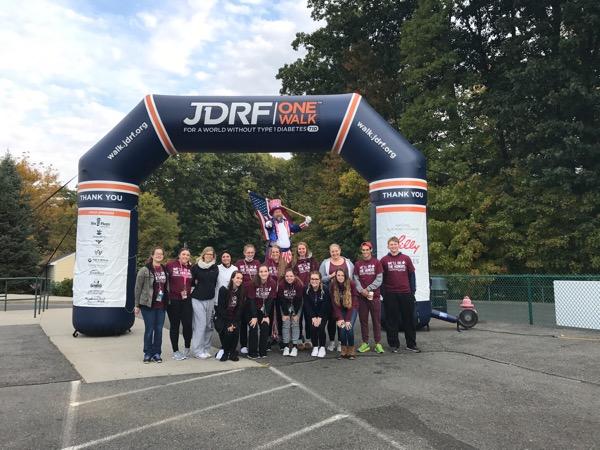 Crowds of people, including Ludlow High School's National Honors Society, gathered at the starting line early saturday morning at Six Flags New England for the annual JDRF walk, which helps raise money for type one diabetes. Groups are encouraged to create teams with their family and friends and can even make creative shirts with their team name on them.
As many as three million people have type one diabetes and about 15,000 children and 15,000 adults get diagnosed yearly according to the Juvenile diabetes research foundation.
Ludlow High student and NHS member Julia Rouillard was diagnosed with T1D when she was six years old and has been participating in the JDRF walk for about eleven years.  For eight of those years she created her own team and designed shirts with various different names. Her favorite team name she has had so far is Diabetes Schmiabetes. Rouillard described the shirts as being "all black shirts with the team name written in the center with blue airbrush font."
Type one diabetes is an autoimmune disease that can attack adults and children. There is no way to prevent type one diabetes as it is not affected by diet or lifestyle. With T1D the body does not produce enough insulin in order for your body to break down any sugars and starches the person consumed. JDRF is working to raise money for research to look for new treatments and also advocating for government help and support to discover new things that could help people with this disease.
Rouillard goes on to say that she "loves how many different people are there because there are people who have just recently been diagnosed and then there are people who have had diabetes for fifty years." Rouillard was not able to make it to the walk this year but hopes she is able to next year. "I love how everyone comes together for the same cause," said Rouillard.  
This year was the first time Ludlow High student and NHS member Bre Watt attended the JDRF walk. "I enjoyed it. There was a lot of people, it was nice to see how many people cared," said Watt. Each year if more and more people start to attend the walk JDRF will raise innumerous amounts of money in order to combat this fight against T1D.
For more information on this disease and how you can contribute help this cause you can visit the JDRF website. http://www.jdrf.org/