Students plan for Halloween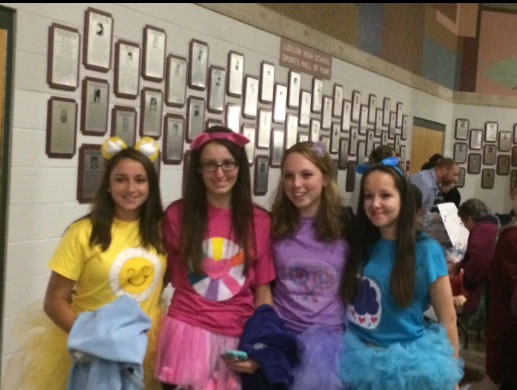 Halloween. One of America's favorite holidays, ranking second behind Christmas. People love to dress up as something or someone that they aren't. Of course, it's also about getting free candy.
"I'm definitely looking forward to this Halloween; who wouldn't?" says sophomore Emily Lawler, "I'm going to be trick or treating and going out with friends. I'm going to be Katniss Everdeen. Since I already have a bow I thought it would be perfect."
Some students even make their costumes. They have the talent, and they've put it to good use. Angelika Waclawska, Lauren Dutton, Katlin Mowry, and Kayla Riordan all made their costumes for this year's Halloween.
"We all planned it out a couple weeks before and we decided to do tutus and we made the shirts out of felt and drew a symbol, there is four different bears," says sophomore Lauren Dutton, "Some of us bought our tutus and some of us made them. We also made ears to use, then we had colored socks and leggings."
Junior Ben Taylor will be trick-or-treating this Halloween dressed as a Ninja Turtle.
"I don't care what people think," said Taylor, when asked what he thought about people who think he's too old for trick-or-treating. "I'll be doing it when I'm 50. It's all about getting free candy."
Junior Katelyn Beebe hopes to go to Salem, Mass., this year. "That's where a lot of people go because it's creepy there," she said. If that doesn't work out she'll stay home and pass out candy.