New Elective Comes to LHS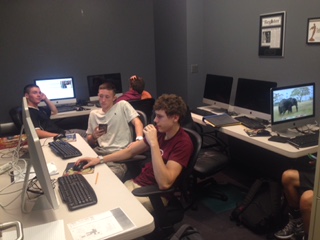 Ludlow High School introduced a new elective to the students this year: Sports Broadcasting. Michael Hill, the TV studio teacher, is teaching the class.
The class takes place during fourth period in the LCTV studio right across from the auditorium and and it is only offered to juniors and seniors.
"Ultimately the students are responsible for getting as many filmed games as possible," Hill stated, "and then they'll edit the games and they will be broadcasted on channel 192, which is Ludlow's channel to find out what's happening around town."
The students will be graded on getting their films done each week and editing them correctly.
"It had a great enrollment and with the students we have now, we are off to a good start and the students all look very interested and excited about sports broadcasting," said Hill.
Eleven students signed up for the class but only seven students got into the class due to their schedules.
"I was very excited to get this class. I wasn't sure about it at first but I love it now," said Junior Billy Reno. "It's my favorite class and the one I look forward to everyday."
The students will be assigned a new game every week, both Junior Varsity and Varsity games will be filmed.