LHS says goodbye to the Class of 2015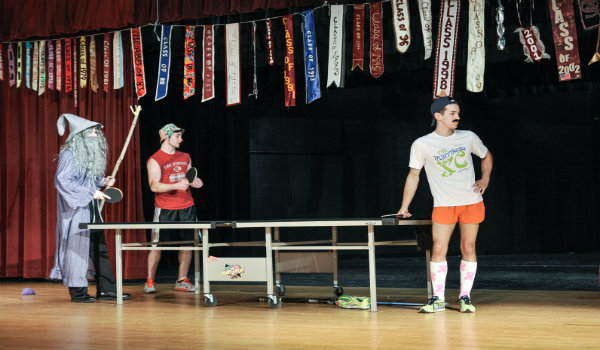 This past Friday the honorary tradition of Senior Farewell was held in the auditorium. Ludlow High School celebrated seniors with new and old traditions, from the always hilarious senior skit, to the thoughtful and emotional candle ceremony.  LHS not only reflected upon the seniors but the school community as a whole, and said goodbye to the upperclassmen.
Speeches were made throughout the ceremony not only by administration and advisors but the student body as well. Senior class president Chelsea Lindblad, vice president Jacob Francisco, treasurer Monica Mazur and secretary Victoria Freniere addressed their fellow seniors about the good times they've had and reminisced about their years as underclassmen. Junior class president Luis Fialho also made a speech addressing the graduating class. All three senior class advisors also made speeches, Sra. Holly Chacon, Mrs. Tracey Blair, and their newest advisor Mrs. Nicole Laguerre all thanked the seniors for the fun times they've shared and imparted some wisdom about life outside the walls of LHS.
The setting of the senior skits took place in Rob Libiscewski's basement. There were boys playing ping pong, and Josh Burtt was imitating Zach Frangules in a wizard costume. The girls were sitting on "Rob's Tanning Bed," until he kicked them off, while DJ Dan Gil was jamming out to music.
The AP nerds, played by Olivia Barbeau, Kayla Ovelheiro, Jennifer Saloio, Shannon Aleixo, came into the party studying and discussing how hard life is as an AP student. Following the nerds, Dylan Gagnon playing Joe Forzano came in and stated that all he needed in his life are his "Three R's: Romney, Reagan, and Republican."
Towards the closing of the senior show skits, Brian Pacheco (Tyler Corriveau) and Alyssa Guyon (Morgan Foye) took their leave by Foye carrying Corriveau in her arms, off of the stage.
At this year's Senior Farewell, a new tradition was introduced.
The newest tradition is that the senior class president hands down an object that symbolizes the graduating classes color to one of the incoming freshman.
This year's student to come to receive the symbol was Xavier Llamas, eighth grade class president. Llamas was given a red t-shirt by class president Chelsea Lindblad.
Seniors walked the halls for the last time as an entire class. They shared tears, laughs and hugs with teachers, friends and staff. The sea of maroon and white that covered the halls were accompanied by the song "I lived" by One Republic, which represented the class that, "Did it all."
The smiles of happiness and sadness brought tears to the eyes of those watching and saying goodbye to them as they walked to the entry of the new chapter of their lives.