Varsity Boy's Soccer expected to forfeit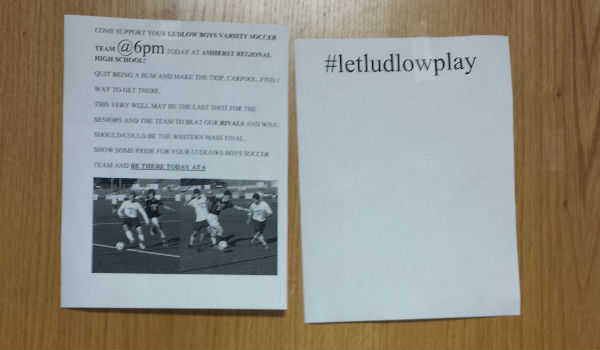 Boy's varsity soccer team was told on Thursday that 11 of the 12 games they have played are to be forfeited due to an ineligible player participating in those games.
The boys record prior to the incident was 8-2-2.
"Currently though our Boy's Varsity record will be 1-11," according to the official statement of the school.
This caused a huge upset by not just players but the community as a whole. The students of LHS turned to social media tweeting at prestigious media stations under the hashtag "letludlowplay," in hopes to receive attention to the pressing matter.
"I don't think I've ever been in such an atmosphere with this team after any loss. This was just the weight of the world dropping down on us knowing that everybody's hard work was just erased like that," said one senior goalkeeper, Jordan Ferris.
Players were in tears at the news that they would no longer be able to play in the Western Mass Tournament for the first time in 11 years. Although the issue is devastating the school community is working in the player's best interest.
"My main concern is that the athletes be strong academically, emotionally and socially during this difficult time. This situation is devastating for the LHS community and the community as a whole. We will try to work through it together with the hope of a positive solution," said Principal Lisa Nemeth.