Students audition for upcoming play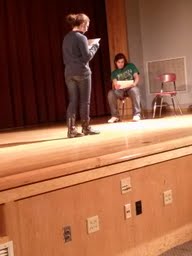 Auditions for You Can't Take it with You, by George Kaufman and Moss Hart, were held in the LHS auditorium.
"I was happy to see a good group of freshmen and sophomores this year, and most of my actors who didn't graduate came back for auditions," says drama club advisor, Dr. Eric Johnson.
Each student auditioning was required to memorize a monologue from a play or movie of their choosing.
"Most of the students worked really hard on preparing for their auditions, and it showed," says Johnson.
After the monologues were presented, the students were asked to give a "cold read," which is a monologue from the production that is randomly selected by Johnson, to be performed with another student auditioning.
"I hope to get the role of Essie," says senior Khristen Consuegra, "she's very childish."
This modern production introduces Tony, the attractive young son of the Kirbys, who falls in love with Alice Sycamore. However, when the Kirbys are unimpressed by the appearance of the Sycamores, Alice and Tony's marriage is out of the question. Tony realizes his relatives are wrong and will not give up on her.
There are nineteen positions that can be filled, so when picking the roles Johnson believes it "depends on the talent."
"Not all of the audition pieces met the criteria, but I was able to get enough about their individual talents, strengths and weaknesses to know that we're going to have a solid show," says Johnson, "I'm very excited to be working with this crew."