Drama Club prepares for one-acts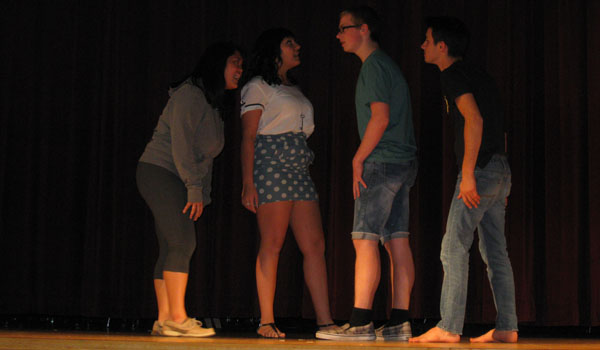 Ludlow High School drama club will be presenting "All in the Timing," written by David Ives which will be taking place in the LHS auditorium on May 15-16 at 7:00 pm. Tickets will be sold at all three lunches for $5.
"All in the Timing," is made up of six, one act plays that the audience will be following throughout the entire production. The skits are comedy based and each play is usually  ten to 15 minutes long.
The one act plays are as follows:
"Sure Thing," which is about a man and woman who are meeting for the first time in a cafe, where they have an awkward confrontation and continue to say the wrong things until their romance blooms.
"Words Words Words" which is based off the saying "put three monkeys in a room and they'll write Shakespeare." During the skit three monkeys are placed in a room and are expected to write Hamlet, however just fool around with pointless behavior.
"Universal Language," which will be directed by seniors Corey Costa and Kyle Kozaczka, is  the story of a man who introduces this women to his own made up language called "Unamunda"  and starts to make money off of it. However this plan backfires when he starts to fall in love with her.
"Philip Glass Buys a Loaf of Bread" which is a parody of composer Philip Glass.
"The Philadelphia" is the story of a man, while at a restaurant, is informed that his unlucky day can be reversed by asking others for the opposite of what he really wants.
Finishing the production is going to be "The Variations on the Death of Trotsky," is a the comic story of Russian Revolutionary  Leon Trotsky who dies over and over again from an injury to the head caused by a mountain climber's axe.
Johnson explains how each person has developed in their own way, such as senior Kyle Cote, who was a "savior" for the play this year and stepped up to be Philip Glass after a student dropped out and left the cast with no one for the part.
"It's a lot of fun, the students are passionate and give it their all," says drama advisor Dr. Eric Johnson, "it's hard work between memorizing your lines, knowing your cues and also managing your school work."