Photography Club starts up at Ludlow High School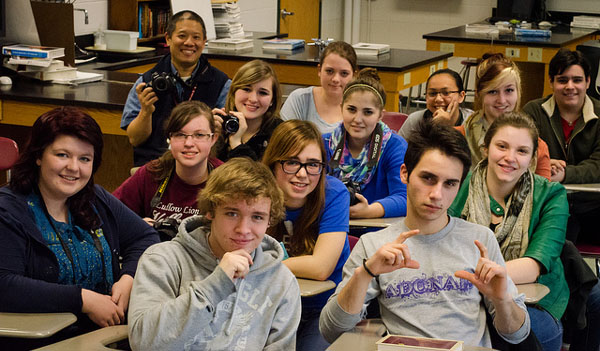 Juniors Joanna Skora and Tim Gavrilov, along with advisor Hollington Lee, started a photography club at Ludlow High School that meets after school on Wednesdays in D205.
"I've had a longtime interest in photography ever since high school," says Lee. "The idea came about when Tim and Joanna mentioned it to me. Their enthusiasm encouraged it," he says.
Professional or even expensive photography equipment isn't needed to be a part of this club.
"You can use any camera. We have people bringing digital cameras and some people using their cell phones," says Gavrilov.
The photography club works on a different theme every two weeks or so. Themes are decided by group members. So far themes have included black and white, "eyes," and patterns and textures.
Black and white photos include various subjects: close-ups of chess pieces, nature photography, logos, and portraits. The photos can be viewed at www.flickr.com/groups/lhsphotography/
"The point of the club is not to just take additional photos, but to get better at [taking photos]. It's an important thing if you want to become a good photographer," says Gavrilov, adding that the club focuses on such things as techniques, angles, composition, and other photography methods.
Mr. Lee says the club is strictly for hobby and for fun. Students shouldn't feel that it's an obligation to submit photos; they should do it because they want to.
"You don't have to be a professional, and we work on broad themes. The only limit you have is your own imagination," says Lee.
The photography club is always looking for new members.
"The club is an outlet for your creativity, and a lot more people should join. It's a lot of fun," says Skora.