Ludlow Cub announces new editorial positions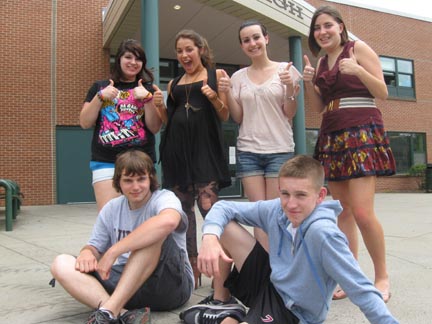 The Ludlow High School newspaper, The Cub, announced its new positions for the 2011-2012 school year.
Junior Samantha Godding will take over as editor-in-chief. "I'm looking forward to running the paper next year. I have a great staff behind me, and with the paper now online we can take it to the next level," said Godding
Sophomore Jordan Leal looks forward to her new position as news editor.
"It is an honor and great responsibility to be given this position, I enjoy writing news articles, and I am ready to guide and assist anyone any way I can," said Leal.
Junior Siearra Papuga is excited for her new position as feature editor.
"I think the new staff positions are excellent because everyone was put where we could really use them, and our whole staff works very well as a team," she said.
Junior Bianca Small claims arts and entertainment editor. In this position she will be responsible for all the reviews of music, television, movies, video games and more.
"I am really excited about my new position, and ready for next year," said Small.
Junior Steven Talbot is now sports editor. "This is going to be an interesting challenge for me because I am not too big into sports, but I look forward to the opportunity," he said.
Junior Greg Cormier moves in as the editorial editor. "It should be interesting as I look to step up my game as I head into senior year," he said.
Sophomore Lindsey Paradis steps in as photography editor. "It is going to be fun and a challenge to work with both photos and articles. I am looking forward to it!"