Students raise awareness by going barefoot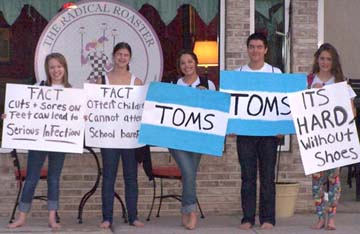 Barefoot students will walk 1.7 miles to Ludlow High School on April 5 to raise awareness for Tom's Shoes — an American shoe company who holds an annual, nation-wide walk to help spread the benefits of owning a pair of shoes.
Junior Siearra Papuga, who organized Ludlow's walk, designed a course that will begin at 6:30 at Radical Roaster on East Street, and end at Ludlow High School in time for attendance at 7:25.
"The owner of Radical Roaster is really into giving back to the community, and anyone can purchase anything they need before the walk starts," says Papuga.
Partcipants will be gathering to create home-made t-shirts by using a tool kit from the Tom's Shoes Awareness Walks website, onedaywithoutshoes.com, and making home-made posters, each containing a fact about an innocent child who suffers due to the lack of shoes. For example, fact number one, Growing Up Without Shoes: In many developing countries, children must walk barefoot for miles to school, clean water & medical help.
At least 20 walkers have pledged to walk so far, compared to last year's eight. The members will all walk hand-in-hand at the same pace portraying the message they are trying to deliver.                                                            
Tom's Shoes is a non-profit organization who donates one pair of shoes to a child in Argentina, Ethiopia, and South Africa after anyone buys a pair. The creator of Tom's Shoes, Blake Mycoskie, brainstormed the idea while visiting a foreign country and witnessed children with cuts and sores covering their feet. Some children's feet were so infected  that they were not allowed to attend school. The company announced in April 2010 that they had given over 600,000 pairs of new shoes to children in need around the world.                                                                                            
For a child in Ethiopia, Aregentina, and South Africa, wearing shoes and practicing good hygeine is very uncommon. In these countries, only one in four children own a pair of shoes, as opposed to half of American children.
"One girl last year got seven blisters on one foot, and that's just one walk, now imagine everyday," said Papuga.