LHS library finally opens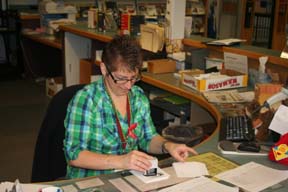 The LHS library is back open after being closed for two weeks due to roof safety concerns caused by snow.
Superintendent Theresa Kane told Mrs. Cindy Goodreau and Ms. Jamison Hedin that according to the building inspector the library was safe and could re-open March 8.
"It's awesome that it's back open," said Hedin, "It was frustrating to not have access to the computers and printers."
Hedin felt the worst part was not having the things that students needed such as books for papers and the computers for research and projects.
To keep busy while the library was closed, Mrs. Goodreau helped in the main office and was a substitute teacher. Ms. Hedin led book talks with students and also helped many with research papers.
"I'm ecstatic that it's re-opened," said senior Rossano Butcher. "It's been aweful because without access to books I have had nothing to do in my spare time."