Math teacher and part-time coach
Eric Nacsin has not given up on his love for cross country and track.
When Ludlow High School students hear the words track & field, they immediately connect it to physics teacher and coach Brain Walsh, who spends a lot of time recruiting students for cross country and the track and field teams. 
However, there is another Ludlow High School name that isn't mentioned quite as often: Eric Nacsin.
Most people see Mr. Nacsin as a teacher, but not many students know he is somewhat a track fanatic. Nacsin is a math teacher in our high school who teaches the incoming freshman Honors Geometry. He is well-liked by many of the students attending LHS. 
Caden Vilinskis, a junior student in LHS, took Honors Geometry with Mr. Nacsin freshman year:"I think he is a W," was the first and only statement. He enjoyed his fun and engaging lesson plans which really made math entertaining and fun. 
Vilinskis isn't the only student that enjoyed his class also. Ryan Mateus, a freshman, is currently enrolled in his class taking Honors Geometry as well. He says that "He is an awesome teacher who truly cares about the success of each of his students." He enjoys going to Mr. Nacsin's class every day because of his "positive attitude and the fact that he makes the class fun."
Prior to teaching at Ludlow High School Eric Nacsin had taught in many other schools. He first started off his teaching career as a Paraprofessional at Thornton Burgess Middle School in Hampden, who assisted in the instruction of Intensive Resource Room. However, He ended up getting cut due to budget reasons. 
After getting cut, he moved his teaching career to Herberg Middle School in Pittsfield, where he became a health teacher. While in Pittsfield, he restructured and implemented a new health curriculum: History of Sports. This course was taught to the sixth, seventh, and eighth graders. However, he switched from teaching health to math since it is more likely to stay if the school needs to cut teachers for the budget; and he liked math anyway. 
So he started off to teach Algebra and Geometry at Springfield Central High School. He started in October 2015 up until July 2018. While there, he created lesson plans for the school year, night school, and summer school. 
In August, 2018, he switched schools once again and ended up in Ludlow High School, where he has been helping students understand the concept of mathematics. 
His Track Success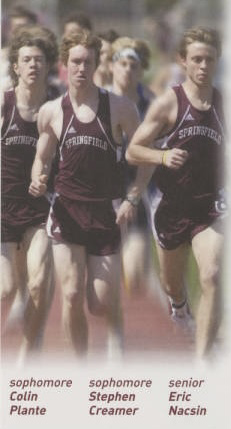 But, not many people know he was very invested in Track. It started freshman year at East Longmeadow High School when he did indoor track instead of basketball. His mom told him that he "wasn't going to make it for basketball senior year." He wanted to keep doing sports all year, so he picked track. He enjoyed it and wasn't that bad of an athlete for a freshman. Then he followed the track season into outdoor as well. 
Going into the fall season of the next year, he decided to quit soccer. He wanted to do cross country instead. So the rest of his high school sports career was filled with cross country in the fall and running track in the winter and spring. 
He continued to run for Springfield College. He ran the open 400 in 51 seconds, the open 800 in 1:56, and the 4×400 in 3:19 collectively. Not only did he study and work hard in school, he was putting up great numbers on the track also. 
Nacsin soon got asked by a friend looking for an assistant coach for the track team. He was having so much fun with the sport, so he took his friend up on his offer. He started his coaching career in East Longmeadow where he would mostly be coaching the distance runners. 
He then bounced around a bit, coaching for many different schools from going from East Longmeadow to Cathedral (Pope Francis) for a year, then back to East Longmeadow, to Ludlow for three years, then landing in Belchertown recently. Only coaching there for three seasons. 
In Belchertown, he created and helped athletes with sprinting, distance running, and jumping. He aided the athletes with "academic and athletic goals" while teaching in the next town over. 
His impact in the track community, despite being seldom known amongst the LHS community, reaches far beyond the track to where the neighboring teachers have strong opinions about him.
Mr. Martin has a lot of positive things to say about Mr. Nacsin and how he teaches his class:"he comes up with interesting ways to present the mathematics that he will share with you." He tries to make the lessons fun, so that students can look forward to coming to his class every day. "I just love working with him," Mr. Martin concludes, which can be said from the other teachers in the building as wwell.  
Students, colleagues, and athletes all say that Nacsin brings passion and commitment to the classroom and on the field.