Woodman honored by graduating class
Lights off, shades drawn, cool air whisking from a fan in the corner — C104 is recognizable as a calm and safe environment from the second one steps through the doorway. In one corner sits a teal microwave; just below it, multiple shelves and drawers protect an impressive collection of teabags. Posters and paintings line the brick walls of the room, shrouding the dull, white paint, making it a colorful and attractive area, matching the spirit of the teacher: Mr. Woodman. 
"I was stunned"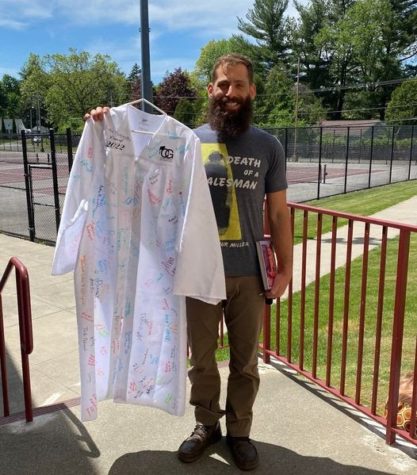 Known for his tranquil demeanor, engaging classes, and notorious beard (recently shaved out of existence), throughout his time at Ludlow High School, Mr. Woodman is a cornerstone of the school community. 
Through his defining characteristics and dedication to the general well-being of the kids he teaches, Woodman was chosen by this year's senior class as the teacher who has had the "most positive impact" on them. The class of 2022 bestowed Woodman with a white graduation gown adorned with all of their signatures in a rainbow of colors to show their appreciation. 
This relatively new award has only been presented twice, and impressively, both times Woodman has received it from the senior class. 
"I was stunned," Woodman responds when asked what his reaction was to receiving the award. He describes teaching not as a "quantitative career," but as something slow and difficult to measure success within: "even if you feel you're doing a good job teaching these kids, you may not actually be doing an awesome job." 
"I don't think it's possible to do this job correctly," Woodman continues. "You never know how people are going to be affected by the things you say. You can have one slip up and you've lost the kid for the entire year," adding, "you also don't know if you said something that had a tremendous impact on someone." 
"Down to Earth"
Mr. Woodman is an admired teacher by the graduating class, but what previous experiences has he harbored that have shaped who he is now as a teacher? Woodman double-majored at Westfield State University in English and Art. He says he loved art but was directed down the more feasible teaching route when he realized that a career with an art degree was not what he considered to be fulfilling or tangible. 
After graduating, he began his hunt for any sort of teaching job; he soon landed a long-term substitute teaching job at Westfield High School, ironically teaching Algebra 2. 
Getting a teaching job at the time was difficult, he says, so he scooped up any position he could get. One year later, after taking on a brief position as a car salesman over the summer, he was hired in 2007 at Ludlow High School as an English teacher. From then, Woodman has cemented himself as an optimistic, refreshing, amusing figure in the Ludlow High School community. 
When talking with seniors from the graduating class about Mr. Woodman's concrete character and class in general, there was a resoundingly positive response. 
"He is far more down to earth than most teachers," says senior Michael Pedro, adding that "Woodman managed to establish a better connection with his students by having them each ask questions at the end of the period… this really helped people who probably wouldn't have succeeded in that class." 
Max Mortimer, another graduating senior, reminisced that during the online portion of his high school career, "[Woodman's] dog always took the spotlight during virtual classes." 
Both seniors agreed that Mr. Woodman was the most deserving teacher for the award, not only due to his active involvement within the class and genuine connections with his students but also through his fun, entertaining character. 
"I don't know, man"
When asked for his interpretation of a "positive impact," Mr. Woodman paused and shook his head, finally responding, "I don't know, man." 
After thinking further, he stressed the importance of forming "better thinkers, writers, and creators," and how he overall wants to "improve lives." 
Throughout the interview, there were many interruptions, but perhaps most memorable was when two students rushed into the room, asking in unison for some tea bags. Woodman, in his calm demeanor, readily gave them some pouches of hibiscus tea. After the couple left, Woodman turned and revealed that the students weren't even his; he added that as a teacher, he needed to "make investments in students" so if he has them in the future, they would simply care more. He went on to liken his strategic relationships he forms with students to his brief experience as a car salesman, attributing the charismatic skill to his past job. 
Woodman describes his daily routine as being divided into two parts: writing, and then a reading or discussion portion. He stressed that one of the most important aspects of his class is the attention-grabber/activator; sometimes, at the beginning of class, he finds it best to simply talk and mess around with his students rather than make them do a writing assignment or reading. 
"Biscuits and Gravy"
From here, Mr. Woodman introduced a somewhat absurd extended metaphor that dominated the rest of the interview as he likened his classroom to that of "biscuits and gravy." 
Woodman takes a more strategic approach when determining how to teach a class each day, as he stressed the need to "feel the class out," adding that "if you have a class of dry biscuits, you have no other option but to be the gravy." Woodman stressed the importance of balancing out the chaos (or lack thereof) in a classroom, adding to his biscuit metaphor that "nobody's ordering gravy on gravy — I've yet to see it on a menu." 
In the sense of balancing things out, it's by the end of Woodman's classes that he really starts to form a community with his students. 
"It's hard to tell," Woodman responded when asked about measuring success as a teacher. But, in terms of winning the award, "when you get to the end of the school year and people get together and say 'this guy impacted my life,' I know I did my job."