Hersheypark: Is it as sweet as it sounds?
Is it a (milk) dud or is it legen-dairy?
When the school year was just around the corner, my family made the trek all the way out to Pennsylvania to go to Hersheypark. Despite the five-to-six hour journey, we found that Hersheypark was well worth it. 
Hershey, Pennsylvania is a surprisingly small town with a population of roughly 14,600, which is about 7,000 less than the population of Ludlow. The town mostly consists of cornfields and dairy farms, but at its heart it contains a sprawling amusement park, a professional sports arena, and various small businesses. There are many different places to stay in the center of town including a Hershey Company-owned campground, hotel, and lodge. 
Hersheypark is the centerpiece of the town, featuring many distinct rollercoasters visible from afar. For a thrill-seeker like myself, there are plenty of rides to offer, including my favorite, Fahrenheit, which has a 97-degree drop. In addition to many fun steel coasters, the park has some of the best wooden roller coasters I've ever been on, including Comet, Wildcat, and Lightning Racer. The park is still expanding, having recently added the thrill ride Candymonium and, as one tour guide noted, they recently acquired land to expand even further. 
In addition to thrill rides, there are rides for the whole family including a monorail, a Kissing Tower (which was unfortunately closed when we were there), a Ferris wheel and a Disneyland-esque ride known as Reese's Cupfusion (which was also closed during our visit). Hersheypark also offers the usual attractions that one would find at an amusement park, such as kiddy rides, arcades, and carnival games. The selection of rides is similar to that of Six Flags New England in Agawam, in that there are thrill, kiddy, and family rides.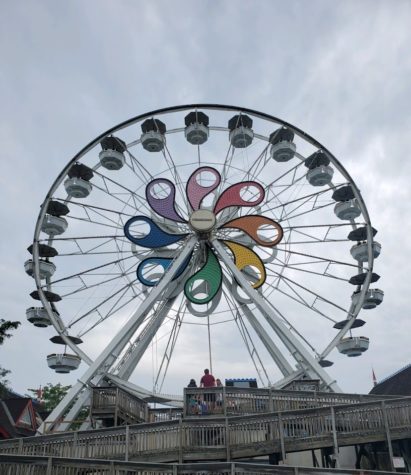 Like many large amusement parks, Hersheypark has a water park that includes multiple water slides and other water attractions for the whole family.  Unfortunately, I can't speak much about the water park, because during our visit the weather was subpar, so water rides were out of the question. Instead, we visited ZooAmerica, which is a zoo attached to the park and included in the cost of admission.  The zoo isn't overwhelmingly big, and takes less than an hour to explore in its entirety. It has a unique selection of animals from North America, and most of the animals were clearly visible, unlike other zoos where all the animals seem to be hiding. It was a nice complement to the overall amusement park and I took some great photos of various animals there.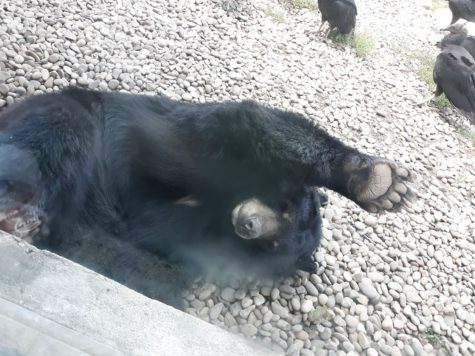 In addition to the zoo, there is a large building adjacent to the park known as Hershey's Chocolate World, which has a lot to offer. It includes a large gift shop with even larger chocolate bars, various food options (most of which have chocolate), and many activities for people of all ages. Some of the activities seemed a little childish, like the 4D movie, but others were generally interesting, like the make-your-own chocolate bar station, in which you get to design a chocolate bar and watch it be assembled.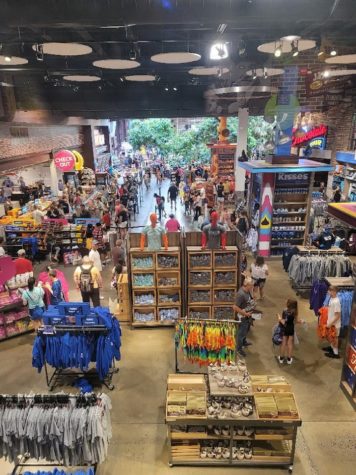 One of the best parts of Hersheypark and the town itself is all the chocolate and chocolate-themed gimmicks. In and around the park, it's almost impossible to end up without chocolate, as many shops, attractions, and employees give it out, ranging from a single Hershey Kiss to a full-sized Hershey bar. Upon checking into Hershey lodge, we were given four full size chocolate bars, one for each guest we had! The park heavily featured chocolate-inspired mascots as well, named Hershey, Reese, and Kiss (not the most original names).  
The world-renowned chocolate made in Hershey also influences the town's aesthetic. All the roads have chocolate-inspired names, and the streetlights are Hershey kiss-shaped. The color brown is also seen throughout the town, giving it a nice warm feel. The town even has a minor-league hockey team with a brown color scheme and a name that's a play on the words "Hershey bars" (instead, it's the Hershey Bears).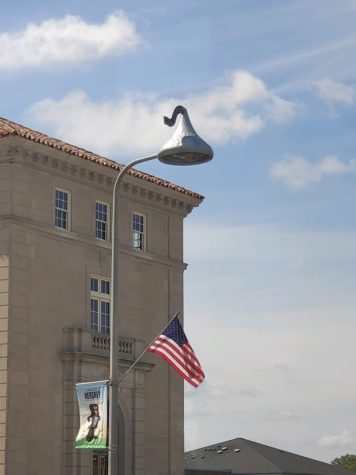 The only problem with Hersheypark, like with most amusement parks, is the price tag that comes with it. Not only does gas cost a lot, but hotel stays do too; someone from Western Massachusetts would likely go there for more than a day (as it's too far for a day trip) meaning they would need somewhere to spend the night.. The lodging, park tickets, food, and other expenses can quickly add up. The only good thing about this is that because Hershey owns many of the attractions and lodging options nearby, you can get a discount on certain activities and use their shuttle system to save money on travel within the town. 
Hersheypark is a great place to go, especially if you're a chocolate-craving, thrill-seeking person that likes to experience new places. Even if you don't like chocolate or thrill rides, it's still worth the visit just to see the unique town and how different it is from Ludlow. A chocolate bar may be sweet, but the memories people can make at Hersheypark are sweeter. 
Leave a Comment