Tips for finding the perfect prom dress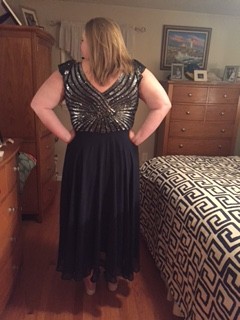 While prom may be three months away it is already time to buy that perfect dress. This task can be rather overwhelming with so many types of dresses and different stores to visit. The dress-buying process should be fun, not frustrating. But don't fret just yet; there are ways to reverse the common faults that most girls fall into.
Before going to a store to look at dresses you should search online. Simply put into the Google search bar prom dresses and several online prom dress websites will appear. Some websites with a nice variety include promgirl.com, davidsbridal.com, and jovani.com.
The purpose of this research is to help you see what the different styles of dresses look like on actual people rather than on a rack. This will expose you to the styles you do and do not like.
When deciding what dresses you like  picture yourself in it. If you're a curvy girl, mermaid style dresses won't be the most flattering. If you're thinner a dress with a tulle skirt won't be the best for you. The number one rule when it comes to choosing a style is to be realistic. There is a plethora of styles and at least one will be the best one for you.
Even though you are looking at dresses online it is not recommended that you actually buy your dress online. Unless you have tried it on in-store or know what it looks like in person it is too risky to just buy online. This is because photos online are usually deceiving.
That dress you love online may look pink on the computer screen, but when you pull it out of the box it's purple. Frankly, everything about the dress could look different in person. Along with the game of color roulette, the size of the dresses may not be right. Gown sizes for each brand often differ from other brands. If the dress doesn't turn out how imagined it can also be difficult to return. Overall buying online isn't worth the hassle.
After doing a primary search online, it is time to look in store. Some common dress shops that girls in Ludlow shop at are Just B in Springfield, Modern Bridal in Indian Orchard, and David's Bridal in West Springfield.
Before you start picking out dresses look at the price tag. Set a price limit for how much you want to pay before trying anything on. This saves you from the disappointment of falling in love with a dress that is too expensive.
Once you find at least three dresses (in your price range) that appeal to you it's time to hit the dressing rooms. Try on the dresses in order of how much you like them. Start with the one that you are least excited about and end with your favorite. If you try them on the other way around you will be close-minded when trying on the other dresses.
When trying each one on think about the comfort of the dress. If it is itchy or too tight don't get it. No matter how pretty it looks it will not be worth it. You are going to have to sit, stand and dance in this dress make sure you can count on it for the long haul.
If you don't find a dress that you love by the end of your first trip, that's okay. This is why girls shop for their dresses four months ahead of time. You will have plenty of time to search other stores. Don't feel forced to buy a dress on your first trip.
Prom dress shopping can be a rather finicky process but it is important to find your dream dress. You have to feel cool and confident whilst wearing it. I mean it is a teenage girls' one chance to dress up like a princess.