Hoeckh aims to win it all in Desforges Challenge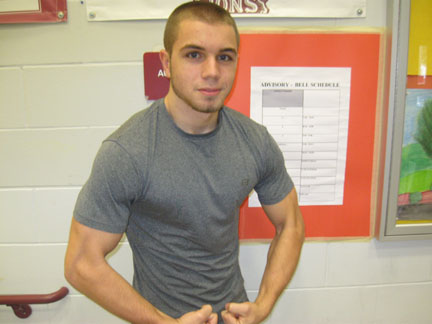 Senior Derek Hoeckh plans on winning it all in this year's Desforges Fitness Challenge. Standing at six feet tall and 175 pounds, his odds are pretty good.
Hoeckh works out five days a week at Planet Fitness and focuses on a different area of the body each day.
Mondays are chest, Tuesdays are arms, Wednesdays are legs,Thursdays is back, and Fridays are abs and shoulders.
"I do all kinds of workouts for each area of my body," says Hoeckh. "For chest, I bench and do chest presses. For my arms I do curls, 21's, and tricep pulldowns," he says. His leg exercises include leg press, squats, calf raises and lunges." I do deadlifts for my back and shrugs along with sit ups for my shoulders," he says.
Hoeckh also takes supplements to aid him in building a better physique. His pre-workout supplements include C4 Extreme and Jack3D. Hoeckh also takes Gold Standard 100% as a post workout supplement.
"I've always been into fitness, and I think doing the Desforges Challenge is a great way to show off my physical standing," he says.
Hoeckh's goal this year is to win it all and come in first place.
"For the past two years, I've come in second place behind Ryan Wytas both years. I want to prove myself and win the whole thing this year," he says.
Hoeckh enjoys taking part in this event both for the fun of it and because of its cause.
"The Desforges Fitness Challenge is a great way to raise money, and it all goes to the Sergeant Desforges scholarship, so the more people that come to watch and participate the better."