LHS acquires new math teacher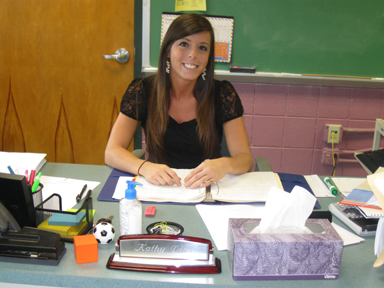 When newly hired math teacher Kathy Dias told me she competed in the grueling 10-mile Tough Mudder event in Vermont, it caught me by surprise. It's just hard to picture this petite, easy-to-talk-to, 20-something clawing her way through the mud. But her toughness shouldn't be a surprise. After all, she beat out 160 applicants for the new math position at LHS vacated by Mr. Jamie Annear.
"I was worried that it'd be difficult to find a job right away," she said. Most teaching jobs choose applicants with more experience. No small feat for someone fresh out of college.
Born and raised in Ludlow, she graduated from LHS in 2008 then continued her education at Western New England University.
Double majoring in mathematics and secondary education, Ms. Dias gained the perfect opportunity to become a math teacher.
Ms. Dias was chosen to teach at both Belchertown High School and at LHS. "I chose LHS because I know the building and the staff very well," she said.
"I've always wanted to be a teacher," said Ms. Dias. "I've always loved math, and wanted to make a difference in kid's lives. I want to share my enthusiasm for mathematics with my students," she said.
Ms. Dias worked as a substitute teacher at LHS last year and at Paul R. Baird Middle School the year before that. "I also did some student teaching at Agawam High School," she said. "I learned a lot of skills and teaching methods from student teaching," said Ms. Dias.
She says her learning doesn't stop after college. " I value individual backgrounds, and I want the students to teach me as I teach them," she said.
"The best thing about teaching is building relationships with students," she said. "Being so close in age to the students can be difficult. They don't really see me as an authority figure, but they still respect me," she said.
Ms. Dias says she would love to stay at LHS and work in education for the rest of her life. "I've always thought about a job in administration. I'm still undecided between teaching and administration," she said.
Ms. Dias has hobbies outside of teaching. She likes to dance, bake, scrapbook and travel. "I've been to Portugal, Florida, Canada and Colombia," she said.
She also loves to run. Fitness is important to Ms. Dias as well. She did some sports in high school. She was a cheerleader her freshman and sophomore year, and did Track & Field her sophomore year.
So it shouldn't be a surprise that she's a Tough Mudder. "It was tough, but I finished the entire 10-mile course," she said proudly.