LHS alumni Stephanie Gomes returns to teach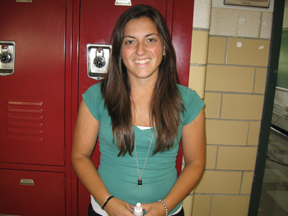 Stephanie Gomes, a graduate of Ludlow High School, has accepted a teaching job here as a freshman English teacher.
Gomes graduated from Ludlow High in 2008 and then attended Emmanuel College in Boston, Mass., graduating from college in three years with her bachelors degree in English.
"I'm getting my Master's in education at Springfield College," she said.
Gomes said that while she did initially attend school to become an educator, she wavered and explored other options. "I decided in the end, to become a teacher," said Gomes.
Gomes graduated a year early, "thanks to all the [advanced placement] classes I took in high school," she said.
After graduating, she became a substitute teacher for different schools before she was able to settle down as a full time teacher at Edward Bellamy Middle School in Chicopee, Mass. and taught 7th grade. After teaching there, she then got a spot as an English teacher at LHS.
Before her job in Chicopee, she subbed in Ludlow Schools for a few months right after she graduated.
"I also taught summer school English last summer at LHS," said Gomes.
Gomes wanted to work here at Ludlow High because she partakes in other activities besides teaching. "I help coach cross-country and track, so it would be more convenient to work here," said Gomes.
During her free free time Gomes focuses on running as she prepares for a marathon she is participating in on October 13. When she isn't running or teaching, Gomes is a waitress at a restaurant.
"I won't tell you where that is because know one needs to know," said Gomes.  Other than running, Gomes is always working.
Ms. Gomes says she's really excited for this year and for the future at LHS.