Little Italy ! Piatti deliziosi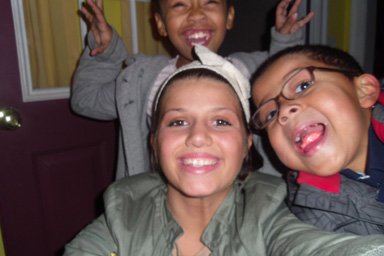 As my sister, my father and I arrive the earliest on Christmas evening, I am always the first to run through the door waiting for the aroma of freshly baked, homemade flaky bread to fill my nostrils. I look around and see so much food already out on the tables, like seafood platters with shrimp, calamari, and crab with a bright cocktail sauce in the middle. I get excited, wait for when no one's looking, than sneak a piece of shrimp as I move on to greet everyone.
As I make my way through the house greeting everyone, I already see my grandmother's bowls of dough waiting to be kneaded by the children to make their own homemade pizza. It's something we all enjoy and gives us time to spend time with one another. From the dough to the sauce, my Nonni does it from scratch just for us kids.
The family seems to double every year. Some things will never change and some traditons look like they will live on forever. Like how my big cousins Vincent and Kyle always make up these crazy games and give out silly prizes to the winners.
Or when we were little, all of the cousins around my age were asked to play the fun "quiet game" by our older cousins. Whoever talks first loses and doesn't get the candy. Now that were older we know it was really just to shut us up and now traditions passed on to my age group as it's our turn to do it to the little ones.
As I look around, I see numerous activities going on. I hear Giovanni scream "JENGA!" while Dominic, Anthony, Louis, Roland, and Patrick are enjoying a quality round of Apples to Apples (a new favorite of mine).
But of course, every year there is one, or maybe even two new adorable editions to the Cavallini family that everyone is hovering around asking for a turn to hold and get to meet.
I make my way through the dining room passing the taco dip. It consists of shredded mozzarella, feta cheese, taco meat, and black olives. But that's quickly devoured by all the old geezers zoned into ESPN.
For as long as I can remember, the holidays with my Italian side of the family were notorious for having mouth watering dishes that would make your taste buds melt.
From simplicity to complexity, all recipes are exquisite. However, everyone has their favorites of course. Nonni's recipes will go on forever, and I will remember her for many great things, but most of all her pasta shrimp and broccoli.
The best thing about this dish is there are so many things you can do to make it all your own. Adding or taking out ingredients to fit your liking is no shame. This meal makes a hearty family dinner, and is also appropriate for special occasions. Don't knock before you try, take a spin at what could be a new family tradition of your own.
What you will need:
Olive oil, fresh broccoli, fresh or thawed out shrimp (shelled and deveined), your choice of pasta.
What to do?
*The amount of water boiled depends on how much you need to make
*Add the amount of shrimp, broccoli, oil, and herbs to your liking
Boil a pot of water, and when it is boiling, add the pasta
While the above is happening, on another burner, put a skillet on medium temp. and shimmer olive oil all over the skillet. As it starts to heat up you can start adding your broccoli and shrimp
Saute the shrimp and broccoli until the shrimp is golden on both sides.
Add 1/8 teaspoon of pepper into the skillet while the heat is still on, and mix around until it's spread out.
Take a tossing bowl that will fit everything you started to cook and put the cooked pasta, shrimp and broccoli in together.
Toss it up just like a salad (feel free to add more olive & pepper to your liking).
Try shimmering the finished dish with parmesan cheese, or adding a sprinkle of garlic power, or serving the dish with fresh garlic bread.
With this dish you can't go wrong. Hope you enjoy! Buona mangia!