LHS welcomes back Lindsay Gauthier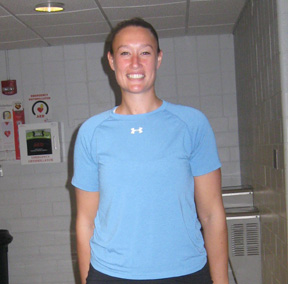 Many students know her from the Boys and Girls Club, but for those of you who don't, the familiar face of Ms. Lindsay Gauthier has found her way into Ludlow High School as the newly-appointed physical education and health teacher.
Although she no longer works at the Boys and Girls Club, Gauthier, an LHS graduate of 1999, worked there over the summer as one of the dance and fitness coordinators. She also helps during certain athletics like evaluating basketball tryouts.
"I chose to get certified in physical education and health for a couple reasons. I fully believe that a person should lead a healthy and active lifestyle. Teaching in these…areas allows me to provide students with correct information and show them that physical activity can be fun," said Gauthier.
Before being hired by Principal Lisa Nemeth, Gauthier taught last year at Advanced Math and Science Academy, a charter school in Marlborough, MA.
Gauthier said that she applied at LHS because she wanted to work in her hometown and give back to the community.
"I'd say about 40-to-50 percent of the kids in my classes I knew previously in some manner.  Since I worked at the Boys and Girls Club for seven years, I got to meet a lot of different children through all types of programs.  I enjoy having them in class because I'm able to see how they've grown and matured," said Gauthier.
One of her students, senior Meagan Moorhouse, recalls knowing Ms. Gauthier from when she was younger.
"I think having Ms. G. as our new gym teacher is going to be great. When I was younger, I would play basketball at the Boys and Girls Club, and she usually was always there. Ms. G was always very nice and would give me awesome advice on how to improve my game. She's fun, but at the same time serious when she needs to be. I think she will be a great gym teacher," said Moorhouse
During her time here at Ludlow, Gauthier played volleyball, basketball, and softball.
If Gauthier could have the students leave LHS remembering one thing it would be "to remember that physical activity can be fun and contributes to their overall well-being."