Dr. Grew brings sense of calmness to Ludlow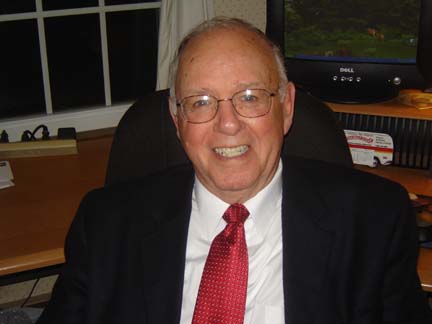 After Dr. Theresa Kane  announced she would be resigning from the position of Ludlow superintendent, Ms. Patricia Correira, a representative for the Massachusetts School Committees Association, was selected by the committee members of Ludlow to find a interim superintendent.
When Correira asked Dr. Kenneth Grew to apply for the position, he didn't think he'd get it. But he did, and is filling in as interim superintendent for the '11-'12 school year.
Grew considers his hometown the city of Norwood, Mass. He met his wife, Pam, at Northeastern University and later married her in November of 1963. He and his wife have three children and seven grandchildren.
From 1966 to 1968, Grew was a Captain in the United States Army. Afterwards, he began his career as a teacher, teaching Mathematics and Science. Grew worked in the department of Coop Education.
Having seven grandchildren of his own, Grew believes that it's important to try and make it to sporting events to show the kids he cares.  He said he enjoys going to the Ludlow sports events because it reminds him of when his kids were younger.
When Grew's own children were growing up, he believed that they should not work during the school year. He believed their job was to go to school and participate in extra-curricular activities.  He also believes that sports give students the incentive to do well in school.
"If you take the sports and extra curricular activities away, you take the incentive to do well in school away," said Grew.
Grew hopes to help the school by trying to give direction and a sense of calmness to the school. He believes that by doing something as simple as walking around the school helps him get to know the students and let them know that he cares.
"It's supposed to be about the students," said Grew.