Khan Academy valuable resource for students of all ages

The site khanacademy.org could easily become a personal online tutor for many students at LHS.
Khan Academy is a non-profit educational organization founded by Salman Khan in 2006.  The organization's mission is to "provide a  high quality education to anyone, anywhere." The website supplies a free online collection of over 2,200 micro lectures via video tutorials stored on YouTube teaching mathematics, history, finance, physics, chemistry, biology, astronomy, and economics.
LHS Anatomy teacher Mr. Hollington Lee finds the site to be incredibly useful and recommends students to check it out.
"I think that Khan Academy is a low- pressure, work-at-your-own pace system," he said.  "It's so easy to access and simple to get into. I believe that once students start going on the site, they will really enjoy it."
Aside from videos, Khan Academy also has interactive calculators and practice activities for many subjects from arithmetic to trigonometry. 
"The practice exercises really helped me improve my skills in math," said freshman Kyle Medeiros.  Kyle is currently taking Algebra I, and he often uses the online videos and multiplication exercises to assist him  with homework. 
"I'm really glad I heard about Khan Academy," he said.  "The information on the site is really helpful, and I'd recommend the site to everybody." 
Accounts on Khan Academy are free, and can be attached to both Facebook and gmail accounts.  All that is required is connection to Youtube for the majority of the videos.
Mr. Charles Cangemi said Khan Aacademy is appropriate for all ages, and that his eight-year-old son enjoys viewing the math lectures and completing the exercises. "After achieving a certain level the students are awarded badges," he said. "It's a simple but effective way to keep kids motivated."
About the Writer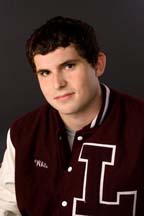 Bobby White, Editor-in-Chief
Bobby White, aka "World's Greatest Dad," aka "Bobby Paradise," is the editor-in-chief of the The Cub as well as a future Olympic gold medalist. ...