Smash right into this new series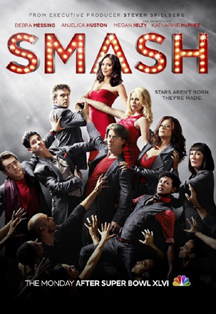 Have you ever been sitting around on a Monday night, after you are done with your homework,  with nothing to do? Well, you can "smash" right into this phenomenal television series, Smash. Starring Katharine McPhee, American Idol season 5 runner up, Christian Borle, Debra Messing, (and many more stars) this show-stopping series will continue mid-season in 2013. Smash follows the birth of a new Broadway musical about Marilyn Monroe, and the inconveniences producing a new show carries.
Beginning in first few episodes, the two long-term producers, Borle and Messing, generate the idea to write a musical about Marilyn Monroe. They contact many different people, apply for many different loans, and audition many different talented performers to pull this show together. Once they place all of the puzzle pieces together, the rehearsal process starts. Originally cast as Marilyn Monroe, Ivy (Megan Hilty), finds her understudy, Karen (McPhee) competition when it comes time to for the show to start its run. The back and forth casting between characters can be confusing at times, but by the end of each episode, you will probably get a good understanding on what happened.
Ending the season on a good note, the reviews on the show were stunning. "Right up front, NBC's Smash gives you a reason to feel good about yourself for watching" – TIME magazine
The fierce competition between Ivy and Karen to earn the part of Marilyn is executed in many different styles: dialogue, songs, dance, etc. which helps mix things up and keeps you tuned in on the plot of the show. Starting out in its first season, Smash was an instant success and had people, like myself, upset when the season was over. If you like the theater arts, Smash is the perfect show for you!