Thirteen horrifying Halloween movies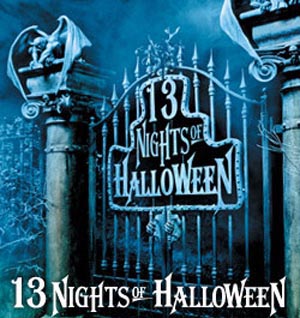 Halloween is not only a night full of candy, costumes, and creepy creatures — it can also be one of amazing movies. Over the years, this holiday has inspired some funny, fearful, and classic movies that are must-see's when preparing for Halloween night.
Thirteen Nights of Amazing Halloween Movies:
Casper-1995
James Harvey believes he can communicate with ghosts and help them move to the next world, and when hired to take care of the ghosts in Whipstaff Manor, he drags his daughter along with him. The Manor is inhabited by four ghosts: Capser, the friendly ghost, and his rude terror-seeking uncles, Fatso, Stretch, and Stinkie. Harvey does not realize he is soon to be the object of the uncles' antics. Casper, as friendly as he is, soon becomes attached to Harvey's daughter, Kat, and a search begins for memories from Casper's past, and a way to return him to his human self. All of this happens while planning a killer party.
Halloweentown-1998
This movie has become a classic Halloween movie to all 90's kids. This Disney Channel original movie follows your normal girl, Marnie Piper, who turns out to be anything but normal. On Halloween, Marnie's grandmother Aggie arrives for her annual Halloween visit. As a bed time story, Aggie tells Marnie and her siblings, Sophie and Dylan, about a place called Halloweentown. In Halloweentown, every day is Halloween, complete with real-life monsters, ghouls, witches, and other creatures.  Marnie, Sophie, and Dylan question their eccentric grandmother and how she lives, and follow her home on a questionable bus. Soon, Marnie uncovers a place believed to be fictional, Halloweentown, and discovers she's a witch who will need to use her powers to save the day.
Hocus Pocus-1993
Another Disney Channel original, this movie follows teenager Max, who moves to Salem, a town known for two things: witches, and Halloween. Not into the holiday, but trying to impress classmate Alison, Max decides to test the town's most feared legend of the Sanderson Sisters. The Sanderson sisters were witches in 1693 who were hung for killing a little girl, Emily, and her brother, Thackery. It was unknown that Thackery was actually cursed to be a black cat that must live forever. Why kill the girl? The Sanderson Sisters take youth from children to make themselves young again. Max, thinking the Sanderson Sister myth is fake, accidently sets them free. When the sisters capture Max's sister, it's all up to him and his sidekicks, Emily and Thackery, to rescue her.
The Nightmare Before Christmas-1993
Who thought a musical cartoon could be an entertaining, enthralling, and exceptional Halloween movie. The master of the odd and twisted, Tim Burton, creates a perfect Halloween movie that is timeless and ageless. The movie follows Jack Skellington, The Pumpkin King of Halloween Town. Halloween Town is a world full of werewolves, monsters, ghouls, witches, and any creature imagined. Yet, Skellington has become tired of the same routine celebration of Halloween and longs for more. So what happens when he finds a door leading to Christmas Town? Jack soon becomes captivated by Christmas Town and attempts to take it over, leading to a nightmare before Christmas.
Beetlejuice-1988
Tim Burton once again delights us and disturbs us with this Halloween classic. A recently-deceased couple still inhabits their home, yet an annoying obnoxious new family soon buys the house. In order to permanently scare away the new family, the deceased couple hires Beetlejuice, an exorcist of humans. Beetlejuice soon comes up with his own motives, and uses his devious ways to try to achieve them.
The Sixth Sense– 1999
"I see dead people," has become an iconic phrase that has been forever cemented into the memory of people everywhere because of this movie. Cole Sear is a troubled boy who is able to see and talk to the dead. Child psychologist Dr. Malcolm Crowe becomes devoted to helping him. Will this anger the ghosts and create severe consequences for Cole? Will Crowe be able to help? Or will Cole be forever burdened with the ghosts?
Ghostbusters-1984
When asked "Who you gonna call?", your immediate response should be "Ghostbusters." This movie is a necessary watch for everyone, whether it is Halloween or not, because it is an iconic classic. The movie follows three parapsychologists: Peter Venkman, Raymond Stantz, and Egon Spengler. After the trio is fired from Columbia University, they start a ghost extermination business in an abandoned firehouse in New York. They begin to fight ghosts and capture them in a containment unit. But when an evil spirt named Zuul threatens the city, will he be too powerful, or can the Ghostbusters handle him?
Sleepy Hollow-1999
Sleepy Hollow is based on Washington Irving's story The Legend of Sleepy Hollow. Tim Burton directs as Johnny Depp stars in this re-telling of a classic tale. This movie is not in any way close to the cartoon you watched in kindergarten. In tells the story of Sleepy Hollow, an actual town in New York, and a police officer from New York City, Ichabod Crane. Crane is there to investigate a string of recent murders by an alleged "headless horseman." Crane soon develops an interest in the lovely Katrina Van Tassel. An interest is taken upon him as well by the headless horseman. Will Crane begin to believe in the supernatural? Will he solve the case with reason? Or will his fate be not so pleasant?
Poltergeist-1982
This is the film that created the eerie, creepy, and spine chilling phrase, "they're here." This movie is set in a suburban town of California. In the house of the Freeling family, life becomes anything but quiet and normal, as they are invaded by ghosts. The TV screen becomes static, an earthquake begins, and you hear that haunting line and the ghosts are there. The biggest predicament is that Carol Anne, the Freeling's daughter, is captured through a portal to the ghost world. Will they be able to save Carol?
A Nightmare On Elm Street-1984
In Springwood, Ohio, several teenagers become terrorized by a mysterious Freddy Krueger in their dreams. Krueger is a man with knives attached to a glove on his right hand that terrorizes the teens and aims to kill them in their dreams. The problem is that whatever happens in their dreams is real. The task of the teenagers is the probably the hardest anyone our age could face: staying awake.
Halloween-1978
First off, the movie is named after the holiday and is thus a must-see. Besides that, it is a horrifying film about a psycho killer. Michael Myers kills his first victim, his sister, at age six. Being sent to a mental institution does not help, though, as he escapes 15 years later on Oct. 30. He heads back to his old town to wreak havoc and has his doctor and the police on his tail. Will anyone be safe with Michael back in town for the terrifying holiday?
The Blair Witch Project-1999
The Blair Witch Project is the original Paranormal Activity. It follows three student film makers who head into the Black Hills near Burkittsville, Maryland. They are on a mission to create a documentary about a local legend, the Blair Witch. They disappear and are never heard from again, at least until their footage is discovered a year later. This is the found footage of the three that was never found in the ominous Black Hills that belong to the Blair Witch.
Carrie-1976
Carrie White is an awkward, friendless, bullied, unstable teenage girl. Her unstable behavior becomes a problem as her emotions create outbursts of telekinetic powers. With these powers being potentially harmful and with Carrie being unstable, something bad is bound to happen, especially when she's embarrassed at Prom.