Mac Miller parties in Western Mass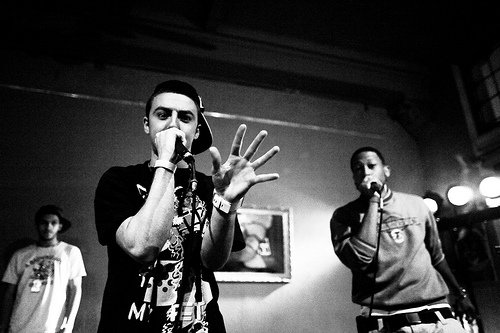 Although wearing a Salvation Army baseball cut-off tee, high-wasted shorts, and a snug jean jacket isn't smart early-March attire, I don't care.  It's cold, and while the line to get into Pearl Street is crowded with tons of eager teens, I somehow manage to get a spot smack dab in the middle of it.  If you don't know what show all of the students are hyped up about, seeing almost every guy wearing a backwards baseball cap would give it away: rapper Mac Miller.
After picking up my tickets I'm patted down.  Girls on one side, boys on the other.  I walk in the ballroom and see a black wall onstage emblazed with "The Incredibly Dope Tour."  This is ground breaking music at its ready mark, ladies and gentlemen; Mac Miller partied in Massachusetts on March 8, and I was there to witness the starting line. 
He's a 19-year-old native of Pittsburgh who just graduated high school, and Malcolm McCormick, a.k.a. Mac Miller, has already released his mix-tape K.I.D.S. in August 2010, and just recently, on March 11, released Best Day Ever.  Mac Miller takes a new approach to rap and makes it his own, Nikes and all.  Miller is not as serious as big time rappers like Eminem and Drake.  His style is more laid back, totally chill.  He doesn't deliver the urban angst of his rap contempories. 
The new spotlight not only makes him pretty satisfied, but he must be doing something right because he just continues to roll in the fans.  Miller's received over 5 million views on his "Nikes On My Feet" video and just behind that is his hit "Knock Knock."  His music takes off of some of the new generation's vibes.  It shouts out a reason for our youth to be completely chill and have a great time as we journey through young adulthood.  He completely relates to the high school/ college vibe. 
Tonight his audience can't help but relate to his lyrics; clouds of smoke hover over random groups in the room.  Girls scream their love for Miller, and almost every person surrounding me moves to the beat of the ear-piercing, but oh-so-incredibly-dope music.  Mark Fahey opened up for Miller with his own twist of hits such as "Black and Yellow" by Wiz Khalifa.  However, Fahey didn't even compare with Mac Miller.  Miller's performance put a trance over the whole ballroom.
Miller's 5 o'clock shadow didn't hide the energy beaming from his face.  I couldn't help but be drawn to the artwork dancing on his arms or his hair that was in dire need of a cut.  He started the night by hyping up the crowd and having us move our hips to "Jump On It."  Miller performed hits from his first mix tape K.I.D.S and put out a sneak preview to Best Day Ever.  Miller made an exit in a way that left me wanting more, and with the help of the whole crowd, he was back for an encore.  Performing for only a hour and a half, Miller lived up to his high standards and I was in awe.
The most memorable part of the show; the incessant thumbs in the air and the shouting of We're just the … !!! … Kids!