American Idol comes back strong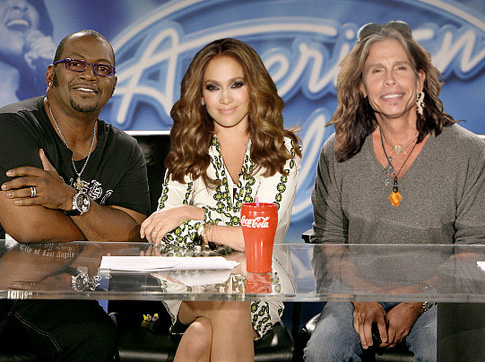 American Idol season ten has often been called a "remix" by judge Randy Jackson, and most would agree that's exactly what it is. This season Jackson is the only veteran judge as Kara DioGuardi, Ellen DeGeneres, and the ever-entertaining Simon Cowell were replaced by music icons Jennifer Lopez and Steven Tyler, formerly of Aerosmith. And, of course Ryan Seacrest is back as host.
These new judges though present familiar faces to both those of an older generation and those of a newer generation. Who does not know JLo or Aerosmith? Tyler has to be the funniest judge yet, with his constant bleeps and odd ball references and slogans. Not only that, but Tyler is over the top with his style and with his wit creating an unparalleled unpredictable energy. At first, I believed Lopez was going to be this season's Paula, but while often being sentimental, like when cutting Chris Madina, Lopez shows a spine, cutting those necessary and giving legitimate and necessary critique.
"Yo dog!" — the man that has made this his recognition statement — is back in action. But is Jackson ready to fill in for Simon as the toughest judge? This year Jackson has stepped it up and has offered more significant commentary than the typical "Yo dog, it was a'ight dog." But is Randy trying to now be Simon? Even though it's nice to have a hard critic, especially with experience, we still want Jackson to be Jackson; that's why he's liked and entertaining.
But besides new judges this year Idol has lowered the minimum age limit to 15 going up to 28. Is this because of all the young stars on the rise? Can anyone say Bieber? And as they visited Nashville, Milwaukee, New Orleans, East Rutherford, Austin, and San Francisco new young talent is just what they got, having three teenagers in the top 12, and oldest competitor only 26.
The top 12 consists of soul singer Jacob Lusk, along with rocker James Durbin. New York native, Karen Rodriguez brings some Latino flavor to the mix. And representing the country music scene are teenagers Lauren Alainia and Scotty McCreery. Bringing a unique vibe to the mix are singers Paul McDonald, Naima Adedapo, and Hayley Reinhart.
Little girls bringing a big voice include Pia Toscano and Thia Megia. Also, performer Stefano Langone first captured the heart of the judges with his heart-gripping car accident story, and now has captured the heart of America as he entered the top12. Last but not least, is bass, recorder, keyboards, clarinet and accordion player Casey Abrams, and on top of that he can sing!
In the past couple years the only reason to watch Idol was for laughs at the auditions, but with a pool of overflowing talent this season is a must, only because soon you'll be hearing most of them on the radio.
American Idol is on Fox Wednesdays and Thursdays at 8 p.m. eastern. You can also pick up the top 13 contestants singles on iTunes.