Patriots disappoint in 2011 NFL Draft
Going into the 76th annual NFL Draft, I had high hopes for the New England Patriots. With the demand for a pass rush (the lack of which is often cited as the reason for the postseason loss to the Jets), it seemed certain that the Patriots would abandon their usual "trade down, get more picks" formula and address an immediate need. On top of that, with the depth of this year's talent pool, I was excited to see who else we could get to add an even more dynamic element to the New England defense. Feel free to form your own opinions about the actual result, but I for one could not have felt more let down by the 2011 New England Patriots draft class: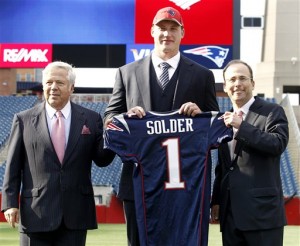 1.  Nate Solder, OT (Round 1, Pick 17)
Tom Brady, for all intents and purposes, is the New England Patriots franchise. I understand it, I accept it, and I love the fact that the Pats have an elite quarterback leading their team. Considering New England's average running game and young defense, Tom Brady arguably means more to his team than any other quarterback in the league. Of course, he can't do much to help if he's not healthy, and with Stephen Neal's retirement, and Logan Mankins' constant displeasure with the team, it makes sense to use the draft to restructure the offensive line, but not a first round pick. I hope Solder can prove to be a valuable asset, but I doubt he'll prove to be more valuable than any of New England's other options for this pick.
2.  Ras-I Dowling, CB (Round 2, Pick 1)
With the first pick of Day Two in the NFL Draft, the Patriots were given just under a day to decide who, of all the remaining players, they would take with this pick. With pass-rushing defensive linemen such as Da'Quan Bowers and Marvin Austin still on the board, however, the Patriots chose to make a pick to benefit their secondary. The issue here, however, is that New England already has an above average secondary. Between Pro Bowl players Devin McCourty (CB) and Brandon Meriweather (FS), along with SS Patrick Chung and returning cornerback Leigh Bodden, the secondary was not lacking to the point where it warranted the 33rd overall pick. The Patriots were not ranked 30th against the pass last season because their secondary is poor. They ranked 30th against the pass because they allowed quarterbacks to hang back, watch receivers, make a sandwich, do their taxes, and then throw the ball.
 3 & 4.  Shane Vareen (Round 2, Pick 24) and Stevan Ridley (Round 3, Pick 9), HBs
These two picks are combined because my opinion on them is the same. While I don't necessarily agree with these picks, I understand them. Sammy Morris and Kevin Faulk are both nearing the end of their careers, and people need to be groomed to fill those voids. But if New England was so desperate to improve the running game, to the point where they'd use two consecutive, relatively early picks, why not just use the 28th overall pick to grab Mark Ingram, the most talented runner in the draft?
 
5.  Ryan Mallett, QB (Round 3, Pick 10)
Finally, a pick that I completely agree with. Mallett, who took a significant slide down the draft board due to off-the-field issues, posesses perhaps the most Brady-esque skill set of all quarterbacks. A tall, intelligent quarterback who relies on his arm instead of his feet, Mallett was a steal, and when the time comes for Brady to hang up the Number 12 jersey, Mallett should make a pretty flawless transition into his spot. And if there's any coach in the league that can fix behavioral issues, it's Bill Belichick. I expect him to keep Mallett on as tight as leash as he kept Randy Moss (and we all know how well that turned out…for a couple years, at least).  
 
6.  Marcus Cannon, G (Round 5, Pick 7)
Another offensive lineman that the Patriots didn't need. This was the point in the draft where I realized that New England didn't much care to address the changes their fans wanted to see. I hope Cannon can step in to whichever role he is presented with, but he wasn't the type of player I wanted to see New England take.
 
7.  Lee Smith, TE (Round 5, Pick 28)

…Really, New England? The Patriots are miles beyond the rest of the league in terms of their Tight Ends. Rob Gronkowski and Aaron Hernandez present unique threats to opposing defenses. Gronkowski is one of Brady's favorite weapons in the red zone, and Hernandez plays (and is treated like) an extra wide receiver. Smith is known for his blocking ability, often cited as the best blocking tight end in the draft, but Gronkowski and Hernandez are no slackers in that department, not to mention Alge Crumpler, who is a well-established blocking machine.
8.  Markell Carter, LB (Round 6, Pick 29)

Whether I'm finally accepting that the Patriots have no intention of picking up a pass rusher, or I legitimately like this pick, I have no problem with Carter coming to the Patriots. Outside of Jerod Mayo, New England doesn't have an elite linebacker, as that's not their system. The Patriots have developed a team in which almost every player specializes in certain tasks or situations. So long as Carter can find his niche in that system (and maybe even cause some disruption in the opponents' passing game), I welcome him to the team.
9.  Malcom Williams, CB (Round 7, Pick 17)
 
It's a really good thing that this was the Patriots' final pick, because it's the last straw for me. New England didn't need to use Pick 33 for Dowling, much less their final pick for yet another cornerback. With only three defensive players taken in this draft, I'm equally as frustrated by New England's lack of a pass rusher as I am by their apparent need to fix a secondary that isn't broken.

This was a very disappointing draft if you're a New England Patriots fan. With all their picks, and all their opportunities, they slipped up again. Yes, New England, you managed to acquire plenty of picks for next year, but how does that help the 2011 Patriots? I should have expected this from the Patriots, because this is their draft formula, but I guess it was wishful thinking that they would address the problems that cost them a Super Bowl. The only hope for Pats fans is that the team picks up some good players in Free Agency, and those that were drafted prove their worth.