Hockey team dominates early in season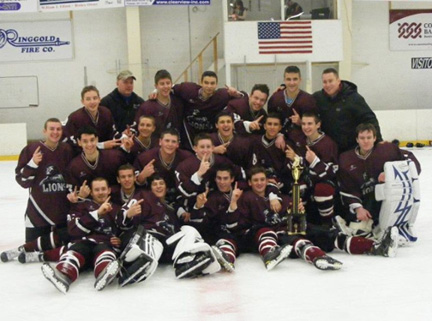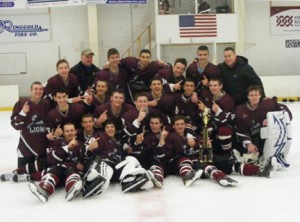 The noticeable enthusiasm and excitement eminating from the arriving fans as they entered the cold, snow-worthy Olympia Ice Center in West Springfield immediately sparked the realization that Dec. 8, 2011 was the start of hockey season.
Already winning going into the second period that Thursday night, the Ludlow High School hockey team foreshadowed domination this season.
As senior captain Greg Cormier hustled towards the puck, belly-flopped onto the ice, and then reached his stick out to keep possession of the puck, senior Joe Francisco screamed, "He doesn't stop! He doesn't stop!" from the stands.
And if this year's LHS hockey team promises its fans anything, it's that they'll take after Cormier and not stop until they declare a victory.
Senior Nick Pevato stated that this year, the Lions have a "solid line" and believes that "mid-way [through the season] things will click and hopefully [they'll] ride that to playoffs."
With a 5-2 win, the boys performed well and made the first game of the season a crowd pleaser.
Cormier, along with senior co-captains Cam Beaulieu, Thane Schinabeck, and Cam Frigon, have welcomed their new "big splash on the squad": freshman Tyler Dietalevi, according to Pevato.
Along with Dietalevi, freshman Alex Fontaine is also promised to bring success as a "solid goalie," says sophomore Aaron McNamara.
Fontaine made the most of his first chance to shine which turned out in his favor when the boys went to Syracuse and returned home with a tournament win.
The boys dominated their first game, winning 8-1, and then took the title the following day with a 10-3 victory in the finals.
"We have a young team," says Cormier, "but a lot of us learned a lot from last year and we're just as good."
The boys take the ice against Minnechaug, Dec. 22, at 8:30 pm at Olympia.