Ludlow High's New and Improved Weight Room
After 20 years of planning and fundraising, the Lions Den Association finally put the renovation of the weight room into motion. About two months ago, the athletic department modernized the room with new equipment.
"People love it. They say it's about time,'" says Athletic Director Tim Brillo. He says that students often described the equipment as outdated and unsafe, so they preferred to go to a private gym instead of using the room.
Senior volleyball player Nick Manewich now lifts in the weight room more often because the room now includes quality, equipment which he enjoys using.
Some people, such as history teacher and competitive lifter, Leah Cook, did not even know our school had a new weight room until others began spreading the news about the renovation. Now, she spends two hours in the weight room every Monday, Wednesday, and Friday to lift and to watch students workout.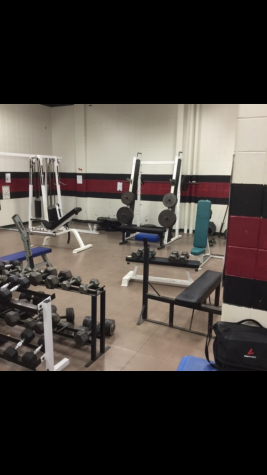 "The renovated weight room has everything lifters need, just like a normal gym," says Cook. She listed some key pieces of equipment such as dumbbells, free weights, benches,, and treadmills.
Cook especially likes the new in-and-out squat system. Students can add as much weight as they need onto the bar and either use the bar for squatting, or move it inside the contraption to deadlift.
Based on her experience as a lifter, Cook says "lifting is important because it strengthens muscles, which is necessary in any sport whether it's track, basketball, volleyball, etc."
Many athletes spend time in the weight room during their off season to keep their muscles strong and conditioned for maximum performance when their season returns.
Manewich often lifts and now has a vertical leap of 28 inches because of it. This is six inches higher than his vertical leap a year ago.
"I was tired of struggling to compete physically in volleyball," says Manewich.
The track team certainly takes advantage of the weight room. Each Monday and Wednesday, the runners follow their workout with a combination of exercises such as bench presses, weighted lunges, and weighted squats. They use a schedule containing various exercises meant to strengthen their leg muscles to improve speed on the track.
Strength is important for athletes to jump high and run fast. As Brillo says, "lifting is the key to an athlete's success."