Vinegar shots and protein shakes make up training regimen for Mr. Woodman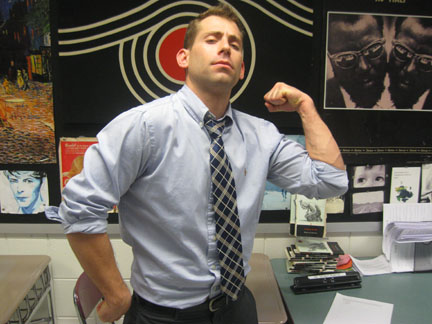 Ludlow High School English teacher Keith Woodman will be participating in this year's Desforges Fitness Challenge on March 14 and has been diligently preparing for the event.
Mr. Woodman is 5'9" tall and weighs 170 pounds. His workout regimen is intense and has been getting him ready to "show 'em who's boss" at this years Desforges Challenge.
"I work out about four days a week either at home or at my gym, which is Snap 21 Fitness. Each day I focus on something different," says Woodman. "Mondays I do my biceps and back, Tuesdays I work on my chest and triceps, Wednesdays are cardio and core, and Thursdays are legs, shoulders and back. I really don't like Thursdays," says Woodman.
Mr. Woodman switches up his arm workouts. "It's a bi-weekly thing. I'll do very heavy weights with lots of breaks, and then after two weeks of that I'll do lighter weights with minimum breaks. I like to switch it up, it builds leaner muscle." he says.
Woodman's workouts consist of an array of various exercises.
"For my biceps I do curls and 21's. I do lots of pull-ups for my back, incline and decline benching for my chest. I also love dips, that's probably my favorite chest workout," he says.
Leg workouts include lunges and squats. For his triceps, Woodman does reverse kickbacks and different pushups. "I use the pulley station at my gym all day everyday," he says.
For back exercises, Woodman does pull ups and assorted dumbbell workouts.
"The best piece of advice I've ever received for doing better back workouts came from Mr. Cangemi. Imagine an invisible egg between your shoulders and tell yourself you have to bring your arms back enough to crack that egg," he says.
Woodman tries to throw cardio into his workouts whenever possible. "As you get older, it's important to do cardio and yoga or you'll age faster," he says.
"When I'm boiling pasta, I can either sit there and watch the water boil or get on the floor and bang out a few sit ups and push-ups. I do whatever exercise I can throughout my day," he explains.
Mr. Woodman is a firm believer in switching up his exercise routines.
"If you do the same thing over and over, your body won't react any more because it's used to what you're doing. You've got to switch things up a bit." he says.
Woodman has also been watching his diet to help him do well in the fitness challenge.
When he wakes up in the morning, he eats three hard-boiled eggs for protein. "I take a shot of apple cider vinegar with water, cayenne and a little lemon juice every morning, too. Doesn't do anything, but it makes you feel like a man," he says.
For lunch he eats two golumpkis, (cabbage stuffed with ground turkey) which gives him the protein and fiber he needs. When Woodman gets home he usually enjoys a salad before he hits the gym.
"After the gym, I go home and eat meat and lots of greens. Swiss chard, kale, spinach and always a lean cut of meat," he says.
Before bed, Woodman has a protein shake with a spoonful of peanut butter.
When it comes to his goal for the Desforges Challenge, Woodman's main focus is beating himself.
"I'd love to win it all or come in top ten, but my main goal is to do better than last year where I stopped after doing the hour and then only seven pull ups," he says.
Woodman says he's competing in the Desforges Challenge because it's a great cause and he likes helping the Desforges family, the students, and he enjoys the camaraderie that comes along with it.
"We're working collectively to strengthen ourselves and heal as a community," says Woodman. "I'm happy to take part of this and help. Usually when you help others, you walk away weaker. But in this case I'm walking away stronger, and that feels great," he says.
Woodman hopes to see many people there because it's a fun time and a good cause.
"I'm excited to see new faces participating, cheering, and contributing," says Woodman. "Every pull-up bar I see added on to that wall is a sign of victory for this school and our community," he says.
The Desforges Fitness Challenge isn't focused only on physical pull ups, but emotional pull ups as well. With the participation and contributions being made, the Desforges Fitness Challenge can pull up our community and help it overcome such a great loss.